Key Features:
| | |
| --- | --- |
| | 300 Gigabytes of Hosting Space |
| | Host 50 Domains |
| | Unlimited Pop/Imap Email Accounts |
| | $80 Credits |
| | 3,000 Gigs of Transfer |
| | Friendly Control Panel |
| | Dynamic Content Plugins |
| | Front Page Extensions |
| | Free Domain |
| | Choice of Web-site Builders |
| | Shopping Carts |
| | Web Blog Software |
| | Award-Winning 24/7 Support |

Excellent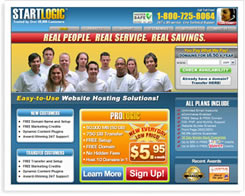 Reliable, smart and affordable: StartLogic offers great features at a low price while putting an emphasis on reliability and service. Consistently ranked as one of the best plans for website uptime, StartLogic's ProLogic plan is highly recommended.
Price & Plans
StartLogic offers several types of hosting including virtual and dedicated servers, in addition to a Windows package. However, most website owners need the ProLogic shared hosting plan - it has three different payment options:
Monthly - $6.95/month
12 Months - $6.95/month
24 Months - $5.95/month
They have waived the $30.00 set-up fee and $6.95 domain registration if you choose a 12 or 24 month package. This means free set-up and more savings with a longer contract.
While the monthly plan offers flexibility, the longer terms are much better value. Here's why: the cost of a monthly contract is about $44 with the additional charges; meanwhile, the 24 month plan costs $143. So for a little more than three times the cost, the 24 month contract covers a time period that is 24 times longer. For the 12 month plan, the cost is about double for a term that is 12 times longer - also a much better deal.
Features
See table (left) for some of the key features. For a complete list of features,
visit Startlogic
..
Service
Phone support and live chat are available 24/7. There is also a responsive ticket
system and a self-help knowledge center that contains close to 200 articles on
various web hosting topics. Spend some time reading these articles and you will become more effective at managing your website.
Space
300 gigabytes; most sites are 20 megabytes or less (1 gigabyte = 1,024 megabytes) so there is more than enough space to host multiple sites.
Bandwidth
3,000 gigabytes per month; most sites need 10 gigabytes or less.
Security
StartLogic utilizes SSL (Secure Socket Layer) servers to ensure that any information exchanged between your visitors and the website is encrypted and safe. Its data center also includes many advanced security features such as motion sensors, video surveillance and biometric access controls.
Reliability
Redundant Internet connections to a variety of providers, multiple power sources and technicians on-site 24/7 are just some of the features in the StartLogic data center. The result is the company's leadership position in website uptime and maximum visibility for your site.
Ease of Use
vDeck is one of the cleanest and most well organized web hosting control panels we have seen outside of the major brands like cPanel and Plesk. Regardless of your hosting experience, you'll find it easy and fast to manage websites with this tool. Try the demo at StartLogic.com.
Freebies
Every new web hosting account comes with a free domain and free set-up as long as you choose a 1 or 2 year plan. Free marketing credits are also included for Google and Yahoo! Search. The combination of these items provides a $110 value, all for free.
Guarantees
All accounts come with a full 30 day money-back guarantee. If you are unhappy with the service for any reason, just ask for a full refund. On longer-term contracts, a pro-rated refund is available anytime. This should make you feel confident about making a purchase, even if you're new to web hosting.
Discounts
StartLogic already offers a discounted price of $5.95/month for its ProLogic hosting plan when you purchase a two year term. So simply purchasing a longer contract saves you money.
Ratings:
Total Score: 98%
| | |
| --- | --- |
| Price | |
| Reliability | |
| Customer Service | |
| Technical Support | |
| Features | |
| Storage Space | |
| Bandwidth | |
| Tech Response Time | |
| Ease-of-Use | |