Key Features:
| | |
| --- | --- |
| | 300 Gigabytes of Hosting Space |
| | Unlimited Mailboxes |
| | 3,000 Gigs of Transfer |
| | Friendly Control Panel |
| | 75 MySQL Databases |
| | FrontPage 98/2000/2002 Extensions |
| | Free Domain |
| | Free Web Site Builder |
| | Shopping Carts |
| | Web Blog Software |
| | Good Support Options |

Very Good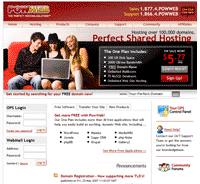 Large disk space and bandwidth, unlimited domain hosting, good customer support (email support, toll-free & live chat), large useful FAQ and community forum to seek for help. Free domain name when you purchase for 1 year or 2 years of hosting.
Price & Plans
PowWeb offers a "One Plan" web hosting package:
3 Months - $$7.77/month
12 Months - $5.77/month
24 Months - $5.77/month
They have waived the $30.00 set-up fee and offer free domain registration if you choose a 12 or 24 month package. This means free set-up and more savings with a longer contract.
Features
See table (left) for some of the key features. For a complete list of features,
visit PowWeb
..
Service
PowWeb offers a few support options, such as email, live-chat and toll-free telephone support. The toll-free line is available Monday to Friday 6:00 A.M. to 8:00 P.M. PDT and Saturday to Sunday 11:00 A.M. to 4:00 P.M. PDT. PowWeb also offers online tutorials and a FAQ (frequently asked questions) section on their website. If you are new to web hosting, these tutorials and FAQs are quite helpful when setting up your site and other tasks. PowWeb also provides an online community forum where most of your e-mail questions will be answered, and a negative e-mail response is available for everyone to see.
Space
300 gigabytes; most sites are 20 megabytes or less (1 gigabyte = 1,024 megabytes) so there is more than enough space to host multiple sites.
Bandwidth
3,000 gigabytes per month; most sites need 10 gigabytes or less.
Security and Reliability
Powweb's Network Operations Center (NOC) is located in the Garland Building right in downtown Los Angeles, California. The facility serves to fulfill the main needs for a network center -- security, redundancy, and scalability. Security staff are on-site 24/7, with digital surveillance cameras and palm scanners mapped around the area. Backups are conditioned utilizing Hot Sync technology. Powweb's choice of Internap bandwidth, Dell PowerEdge servers with 9 terabytes of NetApp File Storage space ensures ever lasting availability and speed for hosted sites.
Ease of Use
PowWeb has developed their own custom control panel software, called the Member Operations Center or "OPS". Most web hosts use commercial control panel software such as CPanel or Plesk. It is actually quite powerful and easy to use. It handles most of the basic tasks, from billing to setting up email accounts and registering new domain names.
Freebies
Every new web hosting account comes with a free domain and free set-up as long as you choose a 1 or 2 year plan. Members have access to their Marketing & Web tools backroom. Have instant access to 100+ Web Marketing Articles, Promotional Tools, Search Engine Submissions, 800+ Template Gallery, Site Utilities, HTML Checker, Image Optimizer, and Web Tools.
Guarantees
All accounts come with an unconditional 30 day money-back guarantee. If you are unhappy with the service for any reason, just ask for a full refund.
Discounts
PowWeb offers a discounted price of $5.77/month for its hosting plan when you purchase a one or two year term. So simply purchasing a longer contract saves you money.
Ratings:
Total Score: 90%
| | |
| --- | --- |
| Price | |
| Reliability | |
| Customer Service | |
| Technical Support | |
| Features | |
| Storage Space | |
| Bandwidth | |
| Tech Response Time | |
| Ease-of-Use | |