Key Features:
| | |
| --- | --- |
| | 300 Gigabytes of Hosting Space |
| | Host 25 Web Sites in One |
| | 2,500 POP/Imap Email Accounts |
| | SSL / CGI / PHP |
| | 3,000 Gigs of Transfer |
| | $80 in Advertising Credits |
| | 25 MySQL Databases |
| | Free Domain Forever |
| | Web-site Builders & Templates |
| | Marketing / Content Package |
| | E-Commerce Enabled |
| | 24/7 Support |

Very Good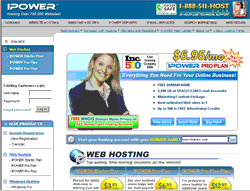 With the IPOWER Pro Plan, you get robust Web-site hosting features at a very low price. For just $4.95 a month, you'll receive a free domain name, 300 GB of space, 2,500 e-mail addresses, 3000 GB of bandwidth, and the ability to host 25 domains with just one hosting package. You'll also be able to market your site with $80 worth of search-engine marketing credits.
Price & Plans
iPower offers multiple hosting plans:
Starter Plan - $3.95/month
Pro Plan - $4.95/month (special offer)
Pro Plus Plan - $12.95/month

Free set-up and free domain with the 12 or 24 month package. This means free set-up and more savings with a longer contract.
For comparison, for a little more than twice the price, the 24 month option covers a time period that is 8 times longer, making it a much better deal.
Features
See table (left) for some of the key features. For a complete list of features,
visit iPower
..
Service
iPower have a strong offering of customer support services, if they're ever needed. You can reach iPower's customer support 24/7, through multiple sources. They offer online chat, online trouble ticketing system, toll-free 24/7 phone support and an extensive online documentation section, to assist with account setup. IPower's support channel has received good reviews.
Space
300 gigabytes with the Pro Plan and 400 gigabytes with the ProPlus Plan; most sites are 20 megabytes or less (1 gigabyte = 1,024 megabytes) so there is more than enough space to host very large sites or even a network of sites.
Bandwidth
3,000 gigabytes per month with the Pro Plan and unlimited gigabytes per month with the Pro Plan; most sites need 10 gigabytes or less.
Security
iPower datacenters have intrusion detection and filtering, plus network monitoring and routing which are ensured by the use of Network Operations Centers (NOC) with content mirrored in other NOCs for total failsafe system security, redundancy and diversity.
Reliability
iPower's network infrastructure is comprised of a pooled server environment, which gives virtually any server on our network the ability to access Web site files when a request occurs. This means that the first machine available will be the one to serve a customer's Web pages, giving customer sites faster loading times and fewer service interruptions than traditional hosting infrastructures.
Ease of Use
iPower utilizes the industry famous vDeck control panel, which makes account setup and maintenance a breeze. You can easily, manage domain names, create and manage e-mail addresses, shopping cart management, web site statistics and implement plugins and databases. IPower's control panel makes web site management simple.
Freebies
iPower offer an immense amount of scripts and features, not found at other hosts, to give your site more functionality. iPower also offers free setup, free domain name, free web-site marketing tools. Also, right now for a limited time, they offer a free advertising credits of $50 at Yahoo! and $30 at Google.
Guarantees
All accounts come with a full 30 day money-back guarantee. If you are unhappy with the service for any reason, just ask for a full refund. This should make you feel confident about making a purchase, even if you're new to web hosting.
Discounts
Right now and for a limited time iPower have discounted their Pro Plan from $7.95 down to $4.95. To make the most of the discount we recommend the the 12 or 24 month package.
Ratings:
Total Score: 94%
| | |
| --- | --- |
| Price | |
| Reliability | |
| Customer Service | |
| Technical Support | |
| Features | |
| Storage Space | |
| Bandwidth | |
| Tech Response Time | |
| Ease-of-Use | |