Key Features:
| | |
| --- | --- |
| | 300 Gigabytes of Hosting Space |
| | Host Unlimited Domains |
| | 2,500 POP/Imap Email Accounts |
| | SSH (Secure Shell), SSL, FTP, Stats |
| | 3,000 Gigs of Transfer |
| | CGI, Ruby (RoR), Perl, PHP, MySQL |
| | 2000/2002/2003 Front Page Extensions |
| | Free Domain Forever |
| | Free Drag and Drop Site Builder |
| | OC-48 Backbone Connection |
| | Shopping Cart & Blog Software |
| | 24/7 Responsive Support |

Very Good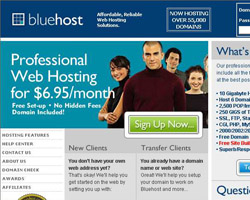 For a couple dollars more per month BlueHost boasts an expanded selection of shopping cart options, site promotion tools, and free software.
Price & Plans
BlueHost offers one comprehensive plan with 4 different payment options:
3 Months - $9.95/month
6 Months - $8.95/month
12 Months - $7.95/month
24 Months - $6.95/month
They have waived the $30.00 set-up fee and $10.00 domain registration if you choose a 12 or 24 month package. This means free set-up and more savings with a longer contract.
For comparison, the 3 month contract costs a total of $70 while the 24 month is $167. So for a little more than twice the price, the 24 month option covers a time period that is 8 times longer, making it a much better deal.
Features
See table (left) for some of the key features. For a complete list of features,
visit BlueHost
..
Service
Phone support and live chat are available 24/7. There is also a responsive ticket
system and a self-help knowledge center that contains close to 200 articles on
various web hosting topics. This allows you to learn more about successfully managing a website.
Space
300 gigabytes; most sites are 20 megabytes or less (1 gigabyte = 1,024 megabytes) so there is more than enough space to host a variety of websites.
Bandwidth
3,000 gigabytes per month; most sites need 10 gigabytes or less.
Security
BlueHost employs SSH or Secure Shell Access; this allows you to make changes to your site and development environment within a secure channel. BlueHost also provides SSL servers (Secure Socket Layer) to make sure that any information exchanged between your visitors and the website is encrypted and safe.
Reliability
BlueHost uses the latest servers to make sure your website loads quickly for visitors. There are also a variety of features in its data center to keep your website performing at its best; this includes multiple power supplies and a 24/7 technical staff that monitors the network to keep things running smoothly.
Ease of Use
cPanel, one of the most well known hosting control panels, is included with every BlueHost account. It makes it very easy to manage your website; from checking stats, to adding e-mail accounts and website functionality. Even better, the control panel layout can be customized to suit your preferences. Try the demo at Bluehost.com.
Freebies
Every new web hosting account receives a free domain, free domain privacy service and free set-up when you purchase a one or two year plan. The total value of these items is about $50, but you get them free.
Guarantees
All accounts come with a full 30 day money-back guarantee. If you are unhappy with the service for any reason, just ask for a full refund. This should make you feel confident about making a purchase, even if you're new to web hosting.
Discounts
BlueHost runs discounts from time-to-time. Check it out at BlueHost. You will be getting one of the best sets of features for a very affordable price.
Ratings:
Total Score: 93%
| | |
| --- | --- |
| Price | |
| Reliability | |
| Customer Service | |
| Technical Support | |
| Features | |
| Storage Space | |
| Bandwidth | |
| Tech Response Time | |
| Ease-of-Use | |