Welcome to Infotx -
Webmaster Guides and Resources

.

Web hosting using Front Page.
Front Page
Are there any limitations if I choose to publish my site with Frontpage?
There are three primary areas of limitation when publishing with FrontPage which you will see error messages or run into problems with.

1. Web size : This seems to be most critical when a "searchable event" is present in the web (Search, Discussion Forum and Table of Contents). The lengthy process of updating the indices for these functions can lead to the connection timing-out (HTTP 500 Error or 'Server' has timed-out).

2. Disk Usage: You may create and publish as many child webs as your disk storage space allows. However, for each child web you publish, FrontPage duplicates certain information into indices and hidden files. This adds "overhead", increasing the storage space required for your files.

3. Time Out: When you are publishing large pictures or have a lot of pages to your web site, often times FrontPage will time out when uploading your files to the Internet. If this should occur, simply restart the publishing feature and FrontPage will recognize what files were already placed into the directory and begin publishing only those files that were left before your connection was timed out.
Do hosting providers support Frontpage Extensions?
Most hosting companies provide the ability for every account to activate FrontPage Extensions free of charge. Most hosting companies support the lastest version of FrontPage extensions which support FrontPage 2000, 2002, or 2003.
How do I reinstall Frontpage themes to my website?
Sometimes when your FrontPage extensions become corrupt, you will have to reapply your themes to your FrontPage site using the following steps:

1. Using FrontPage, open your FrontPage Web
2. Open your Index page
3. From the top menu bar select Format
4. From the drop down menu select Themes


From the Theme window
1. Choose to Apply Themes to: All Pages or Select Pages
2. Reselect the Theme you have been using
3. Modify as before (if applicable)
4. Click OK
5. Save your changes
How do I upload with Frontpage?
Uploading via Publish Web - Make sure if you are using FrontPage extensions to always publish via http
1) Open your FrontPage Web.
2) Choose File from the top menu, and then choose "publish web" A box will appear asking you to specify the location to publish your web to.
3) Enter your domin name in that field, you will type: http://www.yourdomain.com/.
(If your domain hasn't completed the registration process yet, please wait 24 hours and try then.)
4) Click the publish button. Please enter your username and password when prompted.

Your site should start to then publish to your account server.

Uploading via FTP with Front Page

1) Open your FrontPage Web.
2) Choose File from the top menu, and then choose "publish web" A box will appear asking you to specify the location to publish your web to.
3) Enter your domin name in that field, you will type: ftp://www.yourdomain.com/public_html/
4) Click the publish button. Your site should start to then publish to your account server.
Can I FTP to my account if I have Frontpage?
Although most hosting companies provide FTP access to FrontPage accounts, it is not to be used to upload your pages to your account. If you use FTP to modify your site (html files, etc.), the FrontPage extensions may become corrupt.

You should only use FTP to upload to your public_html directory, upload scripts to your cgi-bin directory or change file permissions. Also, do not remove any files from your FrontPage account with an FTP client. The only files that you may remove with FTP are the files that you put there with FTP (cgi scripts and files in your public FTP directory).
How Do I Password Protect a folder in Frontpage?
Open your site live with FrontPage. For instructions on how to open your web site live, read "How do I open my web site 'live' in FrontPage?".

2. In the Folder List, right-click the directory you want to password protect. If you do not see the Folder List, select View | Folder List.

3. On the pop-up menu, select Convert To Web. Note that the folder will reappear with a blue circle in the center.

4. Right-click the folder and then click Open. This opens the folder in a new session of FrontPage.

5. In the new FrontPage session, select Tools | Security | Permissions. A Permissions window will appear.

*Note: When setting up permissions for the new subweb for the first time only, Front Page will first prompt for an initial Permissions settings, so that it knows whether or not the subweb should inherit the permissions of the parent web.

Select the Use unique permissions for this web radio button. Then, click Apply. Next, click the Users tab in the currently opened permissions window to proceed to the next steps. Then, proceed to Step 6 below.

6. Select Add. Then, enter a new ID and Password.

7. Select Allow users to: Browse this web. Then, click OK

8. Select Only Registered Users have browse access. Then, click Apply.
What is the scope of Technical Support for Frontpage?
Most hosting companies will configure your site for FrontPage by installing and maintaining server extensions.

Most hosting companies will point FrontPage users to resources that will help you solve problems, publish your FrontPage webs and learn techniques for getting the most from your FrontPage software.

If you need additional help with your FrontPage software, please see the following:

Microsoft's Product Support Services site at http://support.microsoft.com For Microsoft's Personal Online Support Services for all Microsoft's products including FrontPage, please go to http://support.microsoft.com/support
How do I install Frontpage Extensions on my website?
You can turn on or reinstall FrontPage Extensions for your site by going to your control panel at http://yourdomain/cpanel. Once inside, click on 'FrontPage' and then 'Install Extensions'.
Add accounts to Author or Admin any domain (addon or main) so that you do not have to disclose your cPanel username and password to someone who wants to work on your site.
If you wish to add additional users for Frontpage to be able to login with, you will need to do this through the FPSE (Frontpage Server Extension) Administrator interface. In order to access the FPSE Admin, you simply need to use the following address (be sure to replace YOURDOMAINNAME.COM, with the domain you are wishing to grant access to).

http://www.YOURDOMAINNAME.COM/_vti_bin/_vti_adm/fpadmcgi.exe

Use your primary username and password to access the administration area, then simply select Manage Users -> Add a User, fill in the appropriate information, and you're done.

Next time you go to publish your site using frontpage, simply use the new username and password.
I'm not getting my Frontpage form information sent to my email address.
By default, FrontPage places form results in your site's "_private" directory. You will have to change this information in your FrontPage form if you wish to have the results emailed to you.
You will need to open the form in FrontPage. Right click on the sumbit button of your from and choose "Form Properties" A box will pop up that will allow you to place an email address to receive your form results to.
Example. You can apply an email address to a FrontPage 2000 form by opening the site and editing the form's properties.
How To Apply an Email Address to a FrontPage 2000 Form:
1. Open FrontPage 2000.
2. Open the page that contains the form you want to modify.
3. Click the Page icon on the Views toolbar along the left hand side of the screen.



4. Double-click the page that contains the form you wish to edit.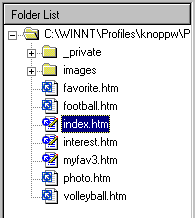 5. Right-click anywhere inside the form and choose Form Properties.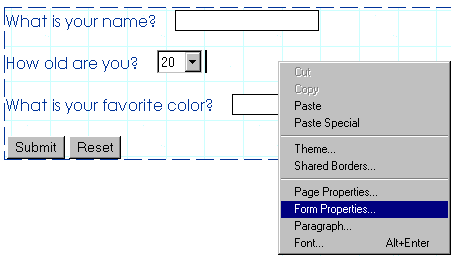 6. In the Form Properties window, select the Send To radio button. 7. In the E-mail address box, type the email address the form is going to send it's results to. Also delete anything that is in the filename box. You can't send mail to an email address and to a file on the server at the same time.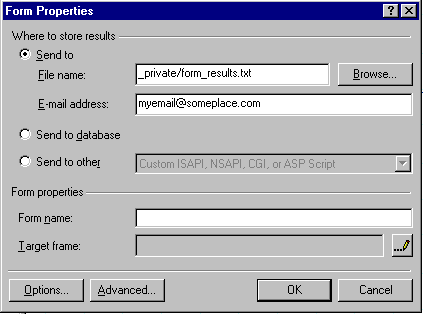 8. Click OK to save the changes.
You have successfully applied an email address to a FrontPage 2000 form.
How do I download my Frontpage site to my computer?
This process is also referred to as reverse-publish or remote publishing. It is the process of publishing a web site from a remote server to your local computer. The following steps show you how to use FrontPage 2000 to reverse publish your web site:

1. Connect to the Internet
2. Start FrontPage 2000.
3. In FrontPage, click File then click Open Web.
4. Click Web Folders.
5. In the Folder Name text box, type:

http://www.yourdomain.com. Note that, as an alternative to your domain, you can use your IP address. ex. http://IPaddress

6. Click Open.
7. When prompted, enter your User ID and Password.
8. Click File and then click Publish Web.
9. Click Browse.
10. To select a folder to save to your location, click a folder name.
11. Click the Publish button.

*Note: Choose Yes if you receive the following message:
FrontPage needs to convert this folder into a new Web by adding the files and folders necessary to support FrontPage features. Do you want to convert this folder to a Web?

*Note: Choose Yes if you get the following message:
The Following pages contain Dynamic Components that will only work if you publish to a web server running the FrontPage Extensions.

If you do not already have an existing folder that you would like to save your web site into (in step 10 above) click the button that looks like a folder with a star on it (New Folder). Type the name, and then press enter twice to enter the folder click open. Now, continue on with step 11 above.
How do I publish to my Addon Domains?
When you create an addon domain you specify a directory to store the files in. This creates a subdomain that starts with that directory, for example if I created an addon to my main account yourname.com, and its called techsupport.com and I specified a directory called techsupport it would create a subdomain called techsupport.yourname.com.

Step 1. Publish to http://subdomain.yourprimarydomain.com

Step 2. The Username will be the same as your directory name, in this case my username = subdomain

The Password is the same password you specify for FTP at the time of creating the addon domain.

*Note: Frontpage Form Pages only work on your Primary Domain.
How do I create a Frontpage counter?
Start FrontPage.

Open the web page into which you want to add the counter.

Select Insert | Component | Hit Counter.

Select the counter's font style.

Click OK.

Save your web page and then publish it to your web site.
How to create a webpage with Frontpage
Creating a Web Page in FrontPage
Microsoft FrontPage 2002 offers an easy and powerful way to create Web pages. Follow these simple steps for creating a Web page.
Open FrontPage
Select Start then Programs, and then select Microsoft FrontPage from the list of programs displayed (it may be inside another folder).
Set Up FrontPage for the Web Server
The instructions below apply to the University of Washington server.?Depending on where your pages are posted, you may need to use different settings.?? Before creating this Web page, use the settings on the FP "Compatibility Tab" to select the features available on the server. Select Page Options from the Tools menu. Click the Compatibility tab.
- For Browsers: Select Both Internet Explorer and Navigator
- For Browser Version: Select 4.0 and above
- For Severs: Select Apache server
- Check the box that says: Enabled with FrontPage Server Extensions.
The settings in this dialog box should appear as below: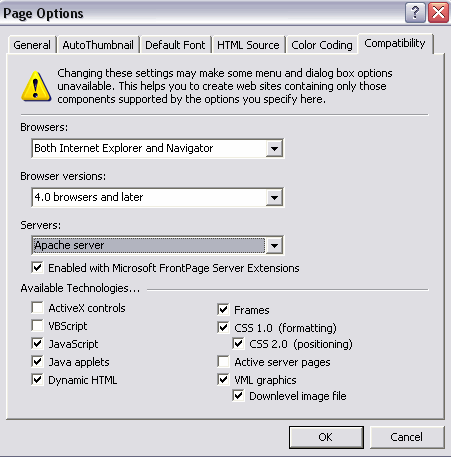 Create a New Web Page
To create a new Web page, choose File, then New, and select Page or Web. Select the Blank Page, or one of the other suggested Web page layouts? from the New Page or Web box.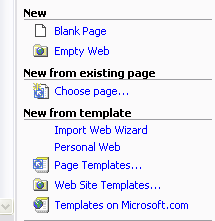 Working with Text
Working with text in FrontPage should seem very familiar to anyone familiar with Microsoft Word. Adding, selecting, and moving text is done pretty much the same way as in Word. You can also use the "What you see is what you get!" (WYSIWYG) commands, like those found in Microsoft Word, to change the format of text. Use B for Bold, I for Italics, and the colored A to change the color of the text. Additional options are available under the Format menu under Font. The main difference from Word is in working with tables.?
Inserting Images
The Web is an inherently visual medium. FrontPage makes it easy to insert images into your?Web page.
Inserting Digital images
From the Insert menu, select Picture, then choose From File. In the Picture dialog box you will need to locate the desired image. Click on the Down Arrow to the right of the Look In box and choose the?correct drive. Select the desired image file and click Insert.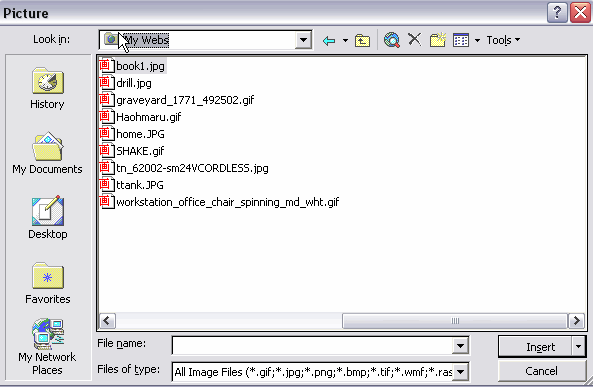 Inserting Clip Art

From the Insert menu select Pictureand choose Clip Art. Click on the Search button and find click on a picture to insert it onto the page.
If you resize the image, make sure to resample it by clicking on the Resample icon in the Pictures box, shown below (center).

Creating Hyperlinks
FrontPage allows you to easily create Hyperlinks from text on a Web page. There are a few ways to create links in FrontPage. If you type a URL (Web address), FrontPage will (usually) automatically turn this text into a link.
Linking from Text Within your Page
You can also use the Hyperlink dialog box in FrontPage to create links to Web pages, link to bookmarks within your page, or insert an email link. Type in the text you want to serve as the link. Go to the Insert menu and select Hyperlink (as shown below).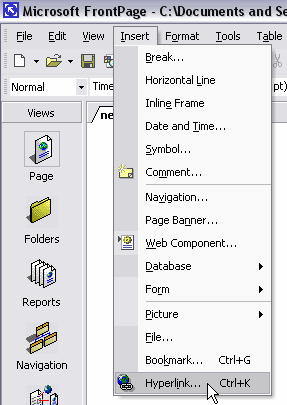 This will open the Insert Hyperlink dialog box. In the Address box, type the address of the Web page you want to link to.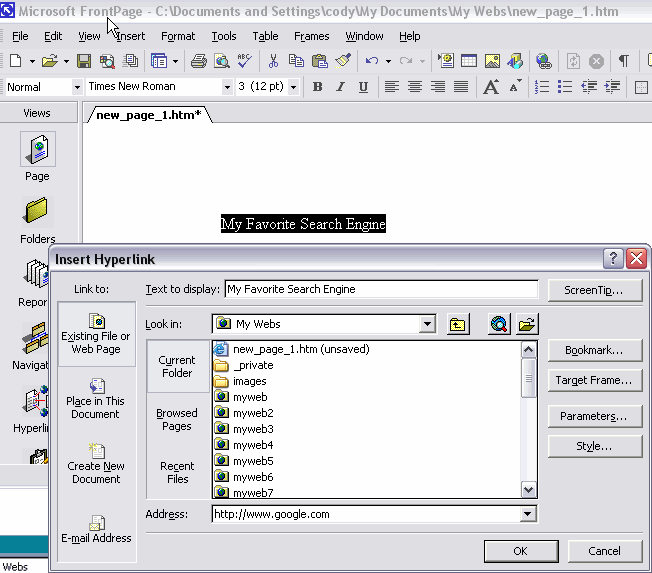 Saving your Web Page

To save your Web page select File then Save. At the top of the Save As dialog box, locate the desired drive and folder.
| | |
| --- | --- |
| ? | |
Choose a short name (8 characters or less, all lower case, no symbols or spaces for maximum compatibility) for your Web page. Before you save your page, you should click on the Change Title button and give it a meaningful title.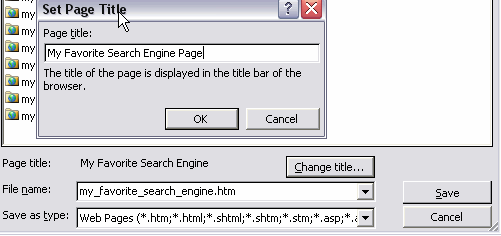 When you've completed all these steps, click on Save. If you are using Frontpage to publish and upload your site to a web server please look at the knowledge base guide on how to do this.
Why does the Frontpage 'file upload' component not work?
The File Upload form will not work on the many hosting companies servers because all of many hosting companies servers operate on Apache Web Server rather than IIS (A windows based server which is the only type of Web server that currently supports this feature.)
My FrontPage site doesn't display properly anymore.
You need to reinstall your FrontPage extensions on your website.

1. Login to your site control panel http://yoursite.com/cpanel
2. Click on FrontPage Exntesions
3. Click on Reinstall FrontPage Extensions
How do I import files into a Frontpage site?
There are two ways to import files with a FrontPage site.

The first way is to go to File -> Import. Then, select the files you want imported and click OK.

The second way is to drag and drop the files from Windows Explorer directly on to the directory name in FrontPage into which you want the file placed.
An error is reported when installing Frontpage extentions about a file or folder not being there, allthough you are able to upload the file or find it on the server.
The most common problem is that the Linux Servers are case sensitive whereas Microsoft products (Frontpage, Windows, etc) are not. Make sure that the file or folder you are getting an error about is the same case throughout. This should allow you to upload the theme and have the extentions find it.

If you are positive that the case and spelling match EXACTLY, it is a good idea to click on 'Uninstall Extentions' then 'Clean Up Old Extentions' and 'Install' rather then just Re-Install through your control panel.
How do I synchronize my local files and my server files?
Open your Front Page program and do the following:

1) Connect to your server.
You should get a split screen with your local files on the left and your
server files on the right.

2) At the bottom right of the screen there should be 3 options "Local to
Remote"(this one is checked by default), "Remote to Local" and "Synchronize"
(This will make everything on your local machine go to the server and
everything on the server come to your local machine so they match up.) This
is the one we want to use.

3) Tell it to sync your system with the server, there will be a blue error
pointing in the direction of the diffrent files (i.e. if a file is going
FROM your local machine to the SERVER it will point to the right, and the
other way around if FROM the server to your LOCAL MACHINE)

4)Then click Publish